Tim Kerr To Release New Art Book "Self Taught" Aug 27
Posted on July 12th, 2021
We are excited to announce a new art book by TIM KERR titled SELF TAUGHT which will be released on August 27, 2021. The book is available for PRE-ORDER NOW and all pre-order copies will be hand-signed by the author.
Tim Kerr is a musician and artist known for his lifelong contributions to the DIY and punk scenes, as a member of the Texas Music Hall of Fame, hailing from Austin, and for having played in The Big Boys, Poison 13, Monkeywrench, and Bad Mutha Goose. Kerr is a visual artist and photographer, and currently releases music with his project Up Around The Sun.

As a bonus, every purchase of Self Taught will include a digital download card of a new Up Around The Sun album along with the book.
"Self Taught" is a collection of paintings, portraits and collages done over the course of his life, and the work is an expression of the spirit of DIY and creating for creation's sake. Kerr has always rejected the impulse to define art or music by categorizing it into a specific genre and throughout his music and visual art career, has preferred to color outside the lines rather than adhere to any one definition of "art" or, for that matter, punk.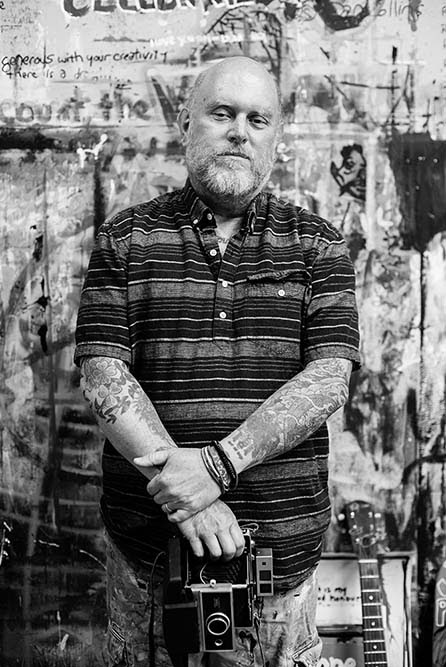 The book Self Taught by Tim Kerr will be released August 27 by Don Giovanni Records, and is available for pre-order now. It will include a digital download of a new Up Around The Sun album, composed by Kerr and Jerry Hagins.

Pre-Order The Book Self Taught by Tim Kerr
Tim Kerr Official Website
Tim Kerr on Instagram